Right now, District 3 is holding a Biohealth Innovation Week in Montreal. Billed as a discovery boot-camp, the idea is to bring together life-sciences startups, VCs, students, biohealth community players and anyone interested in the field. My particular interest is on the devices side of the arena, and the conferences and workshops touch on this as well as on the data and straight-up drug/pharma realms.
Yesterday was the first day but the juiciest bits are still to come (full schedule here), so if you're in the city and curious, you can register (for cheap) with day or week passes.
Today, I'll be going to both the "Product Development and Quality Management for Biomed and Biotech" workshop and the "Emerging Technologies" panel. Below, you'll find my take on the design thinking workshop and the ecosystem panel.
Day 1 Workshop: Design Thinking In Life Sciences
Design thinking is a methodology to develop design concepts, touted as being especially useful when confronted by an ill-defined questions and problems.
When you have a clear picture of where you stand and where you want to wind up, the process of breaking down the plan into a series of clear steps may be arduous but it's pretty straightforward, and from there it's just a question of employing techniques, rules and knowledge to get it done and iron out the issues.
The trouble is when you don't have a clear picture: the current situation isn't obvious and where you actually should want to wind up is pretty much wide open—which is basically the starting point for most things that involve human beings or the real world.
This is where design thinking, using an iterative and human-centric approach, can shine.
The workshop itself was completely hands on, and aimed to give us the experience of the entire design thinking process in a single hour.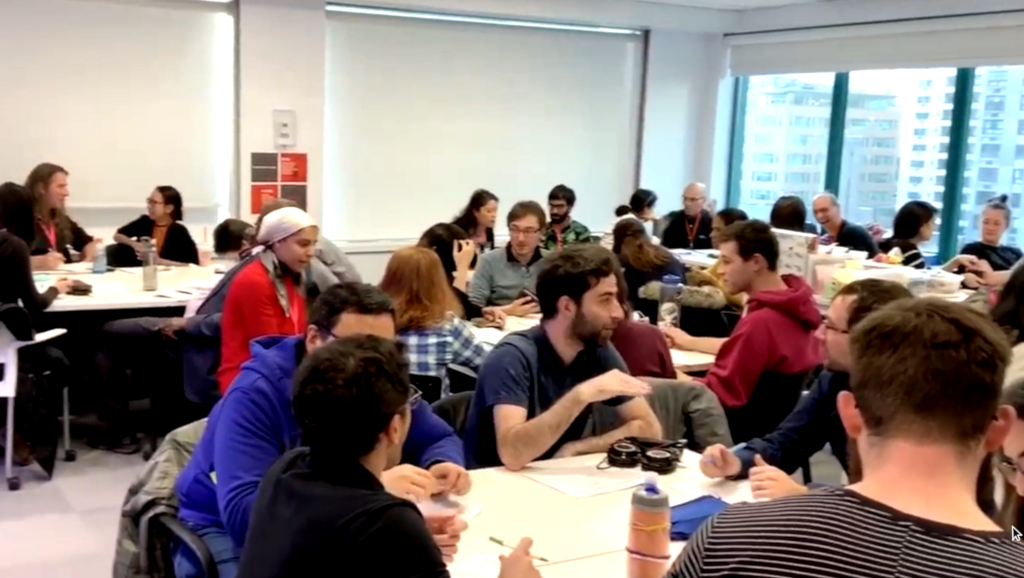 We began by attempting to imagine a solution to some problem—in this case, designing the ideal wallet—and sketching out an idea. This, I think, was a representation of pull-it-out-of-your-a** design where you're trying to generate a solution to a problem without perspective or feedback, and risk going down some dead-end rabbit hole.
Then we paired up and went through the entire design thinking process, which is all about learning about actual human beings and focusing on their needs and desires, generating ideas from that standpoint, and using feedback from the end-user to iterate and refine the solution.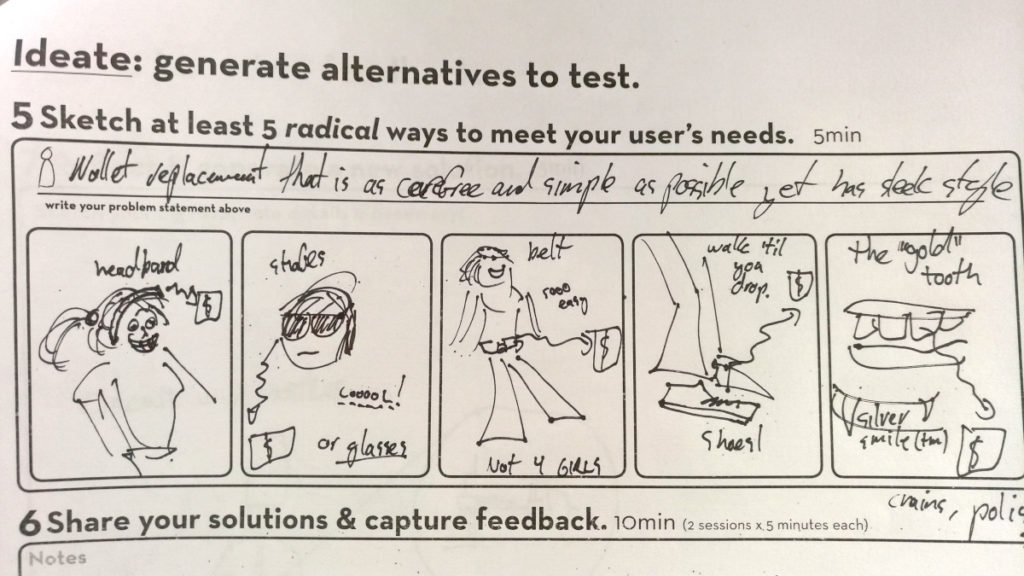 My Take-aways
This workshop gave me an opportunity to dive into someone else's perspective and was a keen reminder of just how hard it is to truly empathize. Feeling like you understand someone, even just a small sliver of their life, is not the same as actually understanding. Though I did manage to frame the core needs and concerns, my solutions were for the most part ill-tailored to her real life.
The absolute best solution devised (still technically infeasible at this time, but… one day), was actually invented as we discussed my proposals and was pretty much Leanne's idea. So, lesson learned and re-inforced: don't stop redefining both the problem and potential solutions with the actual users!
The whole design thinking methodology can be used in life-sciences related projects, but really it's applicable wherever humans are involved and objectives/solutions are unclear, i.e. anytime you're involved in casting vision or otherwise setting the direction of a team or project.
Proposed improvements
I had a blast in the workshop and it brought home some important points. If I could make it a bit better, for myself anyhow because I'm very theory-oriented, I'd add a bit more informational content and flesh out the framework a bit before we actually dive into it.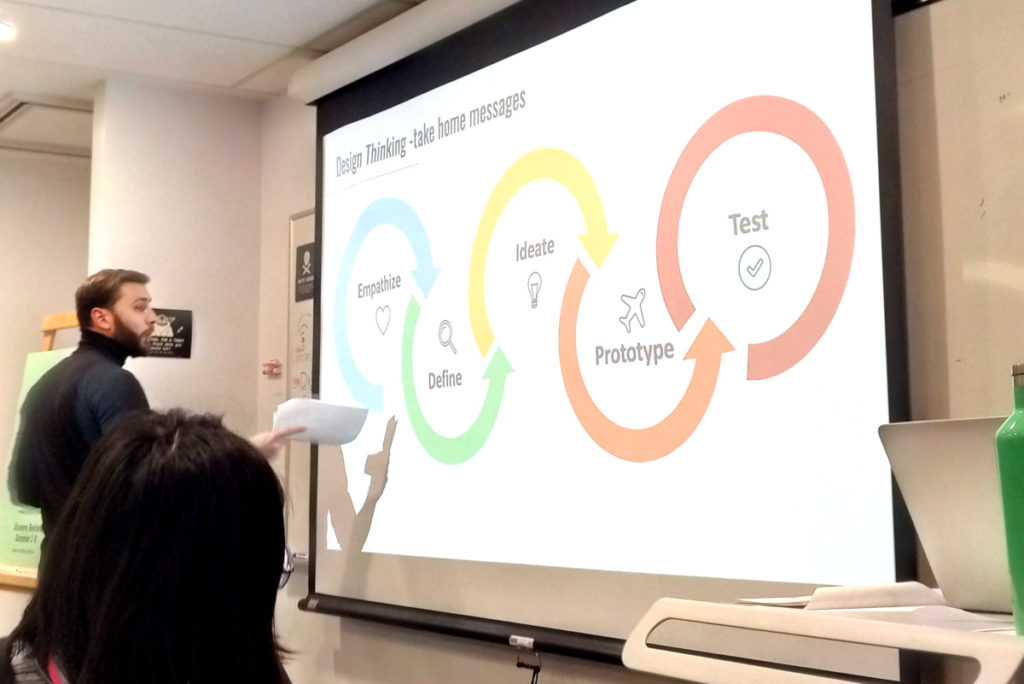 Wass did go over the 5 stages of design thinking (empathise, define, ideate, prototype, and test) but did so briefly and, more importantly, after we'd gone through the whole process. This made it such that some of the quick explanations provided prior to each step were, to me, a bit less anchored in the grand scheme and thus more difficult to peg and implement correctly.
All in all, I'm very happy I participated in the workshop.
Day 1 Panel: Hitchhiker's Guide to the Montreal Bio-Innovation Ecosystem
In contrast to the design thinking workshop the panel had a very tightly focused scope, namely on life-sciences enterprises in the city of Montreal.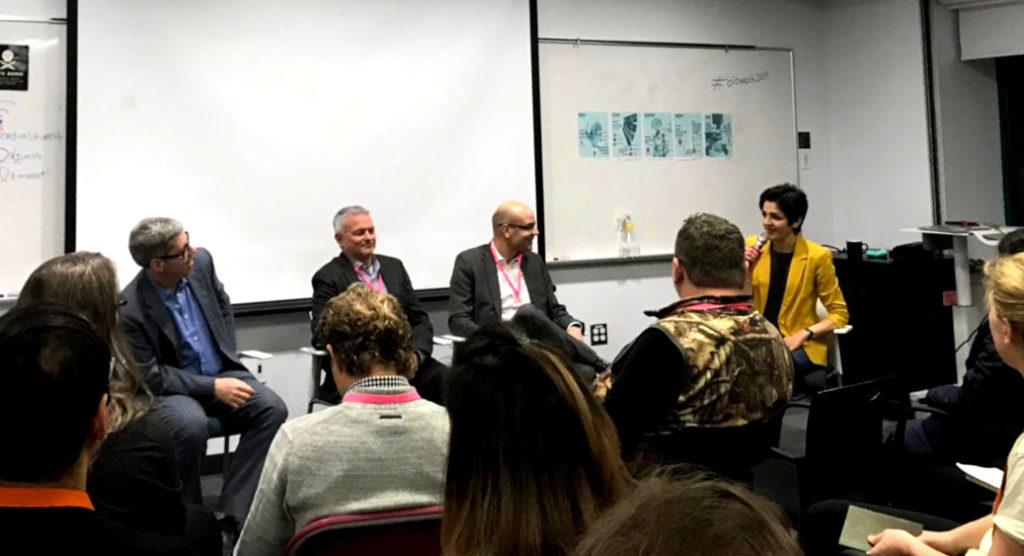 It was a discussion with Pierre-Yves Desbiens (NEOMED, a network of small and medium enterprises aiming to bridge industry and academia), François Bergeron (medteq, which provides members with a host of programs to de-risk healthcare product development and commercialization) and Cedric Bisson (Teralys Capital, private venture capital funds focused on IT, life sciences and industrial innovations with $2B in assets under management) that aimed to give a lay of the local biohealth land and provide some perspective of what's out there and what is coming.
I do hardware and firmware and there are tons of interesting applications in health and life-sciences that I am keen to explore but I know nothing of the current state of affairs in the sector, either globally or locally. Or should I say, I knew nothing. Good portions of the talk involved outlining the key players, the current state and upcoming changes to the landscape in Montreal.
Though it was impossible to cover everything in the couple of hours we had, all three speakers provided insights and pointers that will prove invaluable.
Some key lessons learned
Montreal, at this point, just isn't in the same league as San Francisco or Boston in this domain (more in line with San Diego, New Jersey, Vancouver…) but its history as a pharma/small molecules hub and high concentration of academic institutions and graduates do give it a leg up in terms of qualified talent;
After a boom followed by a massive slump, the industry has been resurrecting over the past 5 or 6 years and things are ramping up;
We're trying to apply the lessons from I.T. and devote more resources to early stage explorations, while failing hard and fast so as to generate more innovation and focus energy on promising avenues;
Montreal generates lots of new knowledge via its strong institutions but so far hasn't been devoting enough resources to tech transfer—getting those innovations out of the university lab and commercialized;
The tax situation here can seem discouraging to companies but the lower cost of living will compensate for this, if we can encourage and expand the vibrant community and facilitate bridging academics and talent with industry.
One thing we have been missing here in MTL is space—purely physical but, more importantly, common spaces that bring together actors with complementary skills and resources that promote mingling of ideas, cross-pollination and the rapid generation of ideas, feedback and networking that proximity and contact enable.
Both NEOMED and District 3 are working to rapidly fill that gap. According to M. Desbiens, NEOMED has plans to create such a space, one that will allow start-ups and specialists to connect with mature companies in the field. He did, however, make mention of transportation being an issue on a few occasions—not certain where this space is planned, but it sounded like it might be a bit out of the way which is definitely a disadvantage.
District 3 is also well advance on this front. The District 3 BIOHUB, a soon to be opened biotech accelerator with co-working lab space (biosafety level 2), was only touched upon briefly but sounds like a very exciting development. The building is in NDG, at Concordia's loyola campus, and is pretty much complete. I'll be looking into the possibilities it will offer when actually in operation.
There were lots of interesting take-aways but I was most keen to find out more about medteq's programs—particularly the "Beachhead", which allows for collaborations between patients, researchers, clinicians and industry to allow for data collection, testing and iteration, and demonstration of biotech in actual use in real healthcare situations.
If there's anything I'd suggest to improve the panel, it would be to devote a little more time for audience Q&A, while perhaps moderating the questions—something like writing up questions in advance and having someone select and summarize them would probably be more efficient and interesting, allowing for greater value to be transferred.
In any case, the discussion was well worth the time. Thank you D3 and thanks to the participants.